The 19th Annual Blackie Lochridge Scholarship Luncheon will be held on Friday, May 18, 2018 at the Airport Marriott Hotel. We will present scholarships ($1,500.00 each) to college-bound students from our Airport's communities.
We also provide donations to Airport employees needing assistance throughout the year. During the Holiday season, we donate to individuals and to airport area organizations. For more information on applying for the scholarship click link.
The Houston Airport Interfaith Chapels located at the George Bush Intercontinental Airport, William P. Hobby Airport and Ellington Airport will host the 195th Annual Blackie Lochridge Scholarship Luncheon and would appreciate your support.  The Luncheon benefits individuals in the Houston Airport Community by assisting in times of catastrophe and need.  Additionally, the scholarships are available to the Houston Airport community employees and their immediate family members who are pursuing higher education.
If you would like to be added as a sponsor please return this form or apply through the electronic form.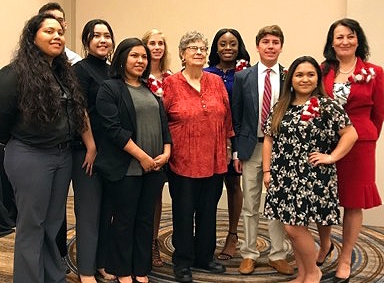 The 2017 Blackie Lochridge Scholarship recipients
Jonathan Michael Hebert,  Ailinna Yilihamu, Diana Elizabeth Guevara, Paige Ashton Losack,
Mrs. Millie Lochridge, Nicole Oluchi Okoro, Trey Riedle,
Isabella Calista Estrada, Ela Ghica (accepted on behalf of her daughter Amanda)