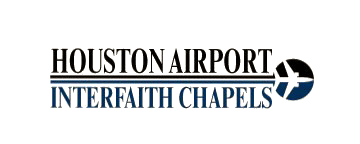 The Interfaith Chapel is the realization of a dream; the dream of a small prayer group.
The idea for an airport chapel was inspired by Kathryn Claflin after she visited the Prayer Chapel at the New Orleans Airport in February, 1967. Ms. Claflin was favorably impressed with the New Orleans Chapel, and was filled with an overwhelming conviction that the new Houston Intercontinental Airport, which was then only beginning to take shape, should have a beautiful, quiet place for meditation and prayer.
The idea caught on immediately with the group, but no one knew how to proceed! However, over a two year period, the idea was carried step by step from inception to realization on wings of prayer. From 1967 to June 8, 1969 when the airport and the chapel opened, countless numbers of interested people served on committees to secure, furnish and staff the original chapel which was located in Terminal B.
By 1980, Houston air traffic increased dramatically and Terminal C was built. A space on the main concourse was specially designed for the new chapel. A chaplain began serving the public part time, and with the help of a few volunteers, he started ministering not only to travelers, but also to thousands of airport employees.
Our Current chapel at the Bush Intercontinental Airport in Houston is located in Terminal C and was dedicated in 1993 and The chapel volunteer board is excited about a new addition, a new chapel in Terminal D will be open to the public in 2011.  The chapel in at William P. Hobby Airport opened in August, 2005. Brett Jones is the Executive chaplain and is assisted by many ministers and volunteers to carry out the mission of the chapel of serving airport visitors and the airport community.